Diving with "HARPY"
For diving groups and clubs, HARPY at is particularly well suited for diving charters. There are very many accessible wrecks off Kinsale. From the shallow dives onto the City to Chicago for beginners to the wreck of the mighty Lusitania for licensed technical divers, there is something for every skill level to be explored - all from the wonderful base that is Kinsale on the souther Irish coast.
HARPY is licenced by the Department to dive all the well-known local wrecks. We ask that dive groups bring their own dive master who will identify themselves to the skipper.
HARPY is designed for Diving:
Stern door.
Dive platform & ladder.
Speed: 20kts
Max Divers: 12 + 2 boat crew
Toilet/Head: Yes
Cabin Heating
Hydraulic capstan
Hydraulic crane (0.8 ton)
Medical Oxygen (Bulkhead mounted and mobile kit).
HARPY also has available specialist survey equipment when required including:-
Magnetometer - proton precession type.
Videoray GTO Pro3, 500' depth rated.
Side scan sonars x 2=3 (1 x dual frequency HDS high definition sonar (digital), 1 x triple frequency sonar (digital),  1 x low frquency sonar (analog) )
ODOM Multibeam sonar
RTK, dGPS and WAAS plotter
Separate NMEA 0183 and NMEA 2000 circuits.
Survey equipment and software
We are happy to talk to all diving parties and will tailor the day's charter to suit your needs. We offer very competitive rates. Please contact us to arrange details. Diving parties will need to bring their own diving equipment. However, we can arrange bottle refills.
Well known wrecks at the Old Head of Kinsale are that of the City of Chicago an the Albion. Both are on the west side. There are many more...
Fáilte ar bórd!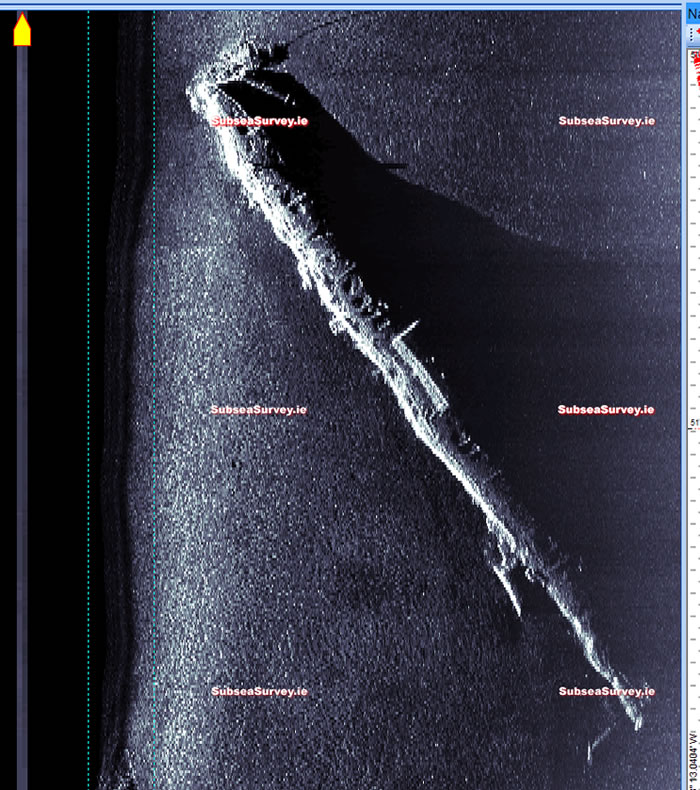 Sidescan sonar image of German WW1 submarine UC-42
taken from HARPY by our sister company  Subsea Survey Services Ltd  out of Kinsale.